From 20 – 23 two delegates from VU  participated in the TO-INN project kick-off meeting at the University of Barcelona, the host and organizer of this innovative project.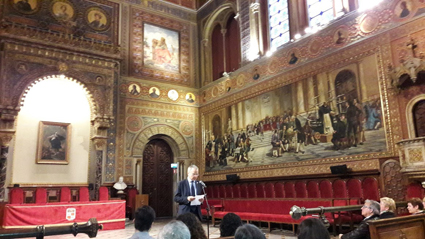 The project started with a conference in which we enjoyed the  presentation from famous professor José Gimeno Sacristán, who is a full university professor of the Universitat de València,
The presentation was an excellent start for the project, as  Professor Sacristán has done outstanding research in the fielf of inclusive education. He has been awarded by the 'Consejo Latinoamericano de Ciencias Sociales (CLACSO), an institution linked to the UNESCO. The aim of the award is to recognise Gimeno Sacristán's contribution to 'the dialogue and the cooperation between Spain and Latin America' in the education field. Professor Sacristán and hist team from the the Universitat de València are called "a reference in the world within the thinking of critical education and pedagogy, within humanist and social thinking".
The rest of the days were spent to get the 22 partners in teh TO-INN project, from Argentia, Bolicia, Colombia, Ecuador, Honduras, Mexico, Paraguay, Portugal, Italy, UK, Netherlands  and Spain get to know each other and create a sustainable network to tackle the challenges realted to the project and to Inclusive Education.
The TO-INN project runs from October 2016 to October 2019.
This is supported in part by a grant from the Erasmus+ Key Action 2 – Capacity building in the field of Higher Education of the European Union (573685-EPP-2016-1-ES-EPPKA2-CBHE-JP) https://www.toinn.org. The TO-INN project focuses on the challenges of Higher Education in providing inclusive education for all. This targets specifically students from less privileged sectors of society.