Hi all! We have been here for two weeks now. Our projects concern banana farmers, Gula Apong producers and children of Kampung (village) Pinggan Jaya. To get to know the context, we met banana farmers, the owner of a banana chips factory and children and women that live in Kampung Pinggan Jaya, which is only half an hour drive from the city here.
However, the village is poor. I met a woman there that only uses her phone to answer calls, because she does not know how to make a call herself. Her daughter, who is of my age, lives in Kuala Lumpur ('KL') and calls her from time to time. We talked to them to find out if they could use some technology for education or business purposes, and if yes, what kind of technology. Although they are poor, they do have dumb phones and smartphones. Kids use them for example to play games and for social media, albeit not as frequently as we do..  (which is a good thing in my opinion!)
We also met people from Kampung Sadong Jaya and stayed for three days with a family there to celebrate Hari Raya, the end of the fasting. The family receives tourists as a (side) business. However, I think the business just started, because the day after we left, our visit was front page news in the (probably local, but still) newspaper :p We experienced there what it is like to be a celebrity.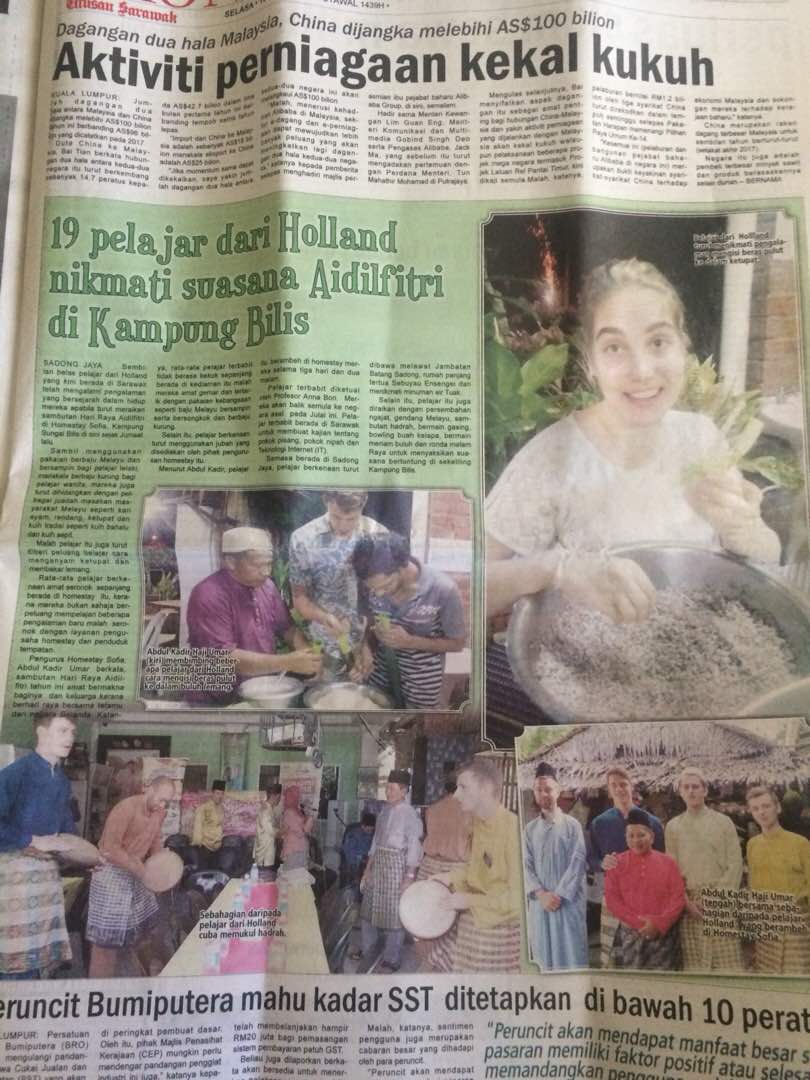 Apart from that, I did not feel like a tourist at all, because we lived with a Malay family and we got to spend time with them and their family and friends: we ate with them, we prepared for Hari Raya, we learnt a bit how to cook local food (which is delicious!!!) and we visited other people from the village during Hari Raya. The villages in that area are beautiful: the houses are painted green, pink, orange and yellow and they are surrounded by coconut trees, banana plants, pineapple plants and other plants with fruits that I have never seen before. Everyone waves at each other, families travel on a motorbike (1 kid in front, second kid and wife on back), and when we were walking through the street, people would say 'Welcome to my village!!!!' and make a talk with us.  The neighbour invited us in her home and before we knew it, we were helping her cook Burasa and we were trying on her Hari Raya dresses. Anna, my teacher from The Netherlands, stayed with us. It's a new experience to try dresses with a teacher. It is a lot of fun actually. Usually in our university, you only see the teacher when they are teaching, and you tend to forget that they are humans as well. Now it felt a bit like family.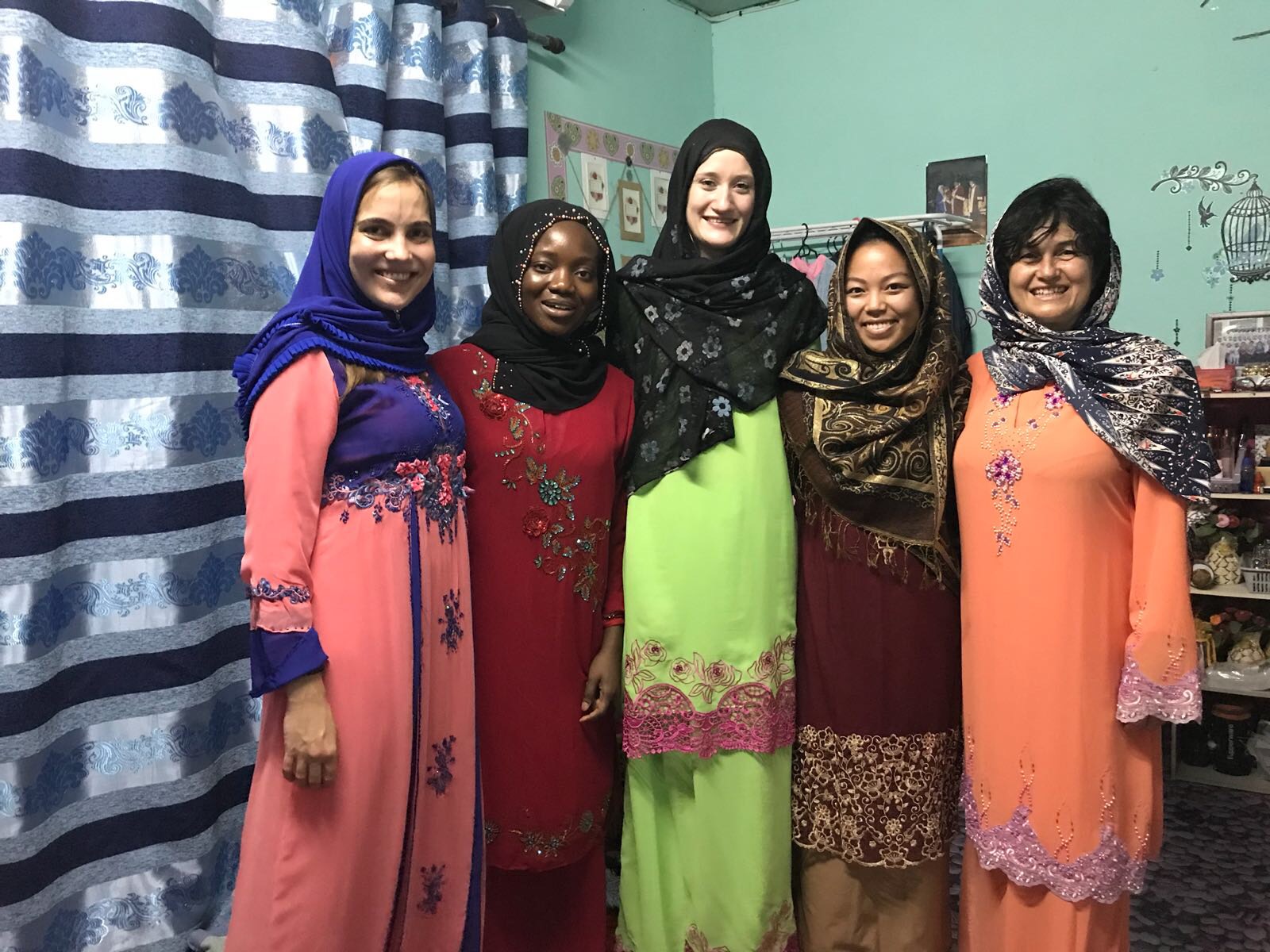 Since we came back from Kampung Sadong Jaya, we have been spending our time at university. Probably, the coming two weeks, that will be our next new home, and we're going to use a moving company from ADTmoving to help us with this. In fact, the university provided us a computer room that is accessible 24/7, and yesterday we already stayed till 23:30. The group and I are going to develop an application that  coordinates the production and demand of Gula Apong in this area.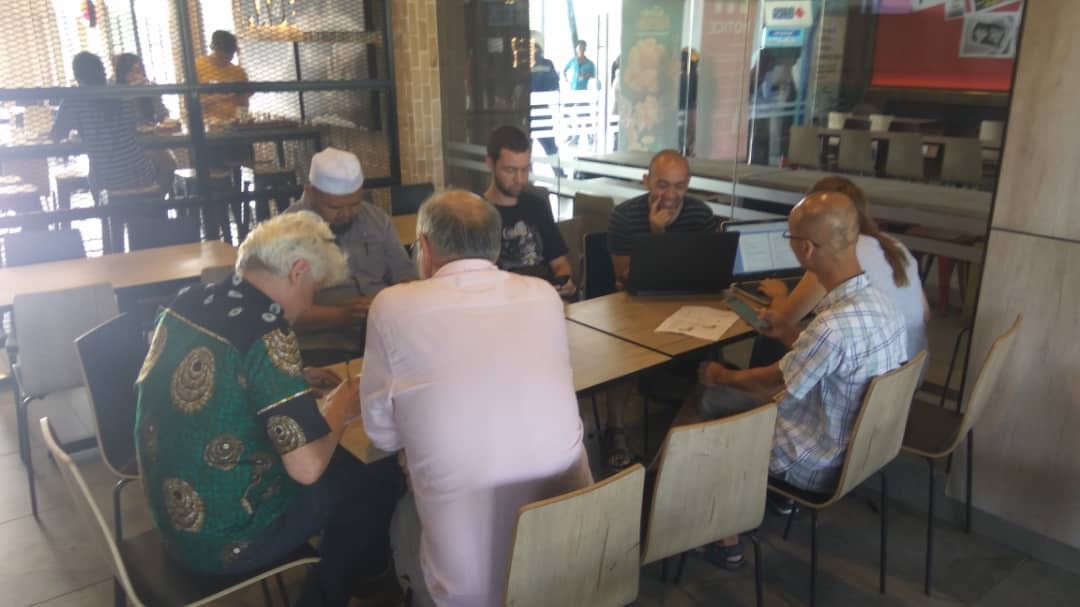 The university teachers help us a lot, they are very welcoming, and we can whatsapp them if we have any questions. I will never forget the teacher that proposed a meeting with us to discuss our findings in KFC. See picture. Also, we have awesome fellow students that are from Malaysia and work together with us on this project… I really appreciate this. It is very interesting to meet students from a different country and culture so far away. And useful: they taught me how to say 'less spicy'
I am sad that we are already halfway our project. Time flies. I am excited for the coming weeks and hope we can create something that will be of good use!